'People are hungry for real bookstores': Judy Blume on why US indie booksellers are growing
At 78, the multimillion-selling author has begun a new career, opening her own bookshop and joining a business sector thats flourishing again in the US
She might be a beloved and bestselling author of classic childrens books from Forever to Blubber, but Judy Blume says she wakes up every day and I look to the sky, and I say, whoevers up there, I thank you for not having to write today.
Blume doesnt have to write because, at 78, she has embarked on a new career: shes an independent bookseller. Together with her husband, George Cooper, she has opened a small, nonprofit bookshop in Key West, Florida, where shes working almost every day. And shes loving it. She had planned to take a gap year after she finished writing and promoting her last novel, In the Unlikely Event. I was going to relax and read and have this whole time with no pressure. And then bingo the chance comes along to open a bookshop, and there you go. I guess I like that in my life To learn something new like this, at 78, makes it all the more exciting.
Blume and Cooper had been urging Mitchell Kaplan, founder of independent book chain Books & Books, to open a bookshop in Key West for years. He told them that if they could find a space, he would partner with them. They found a corner store, part of a large deco building , and with help from Kaplan and his team, Books & Books @ the Studios of Key West opened in February.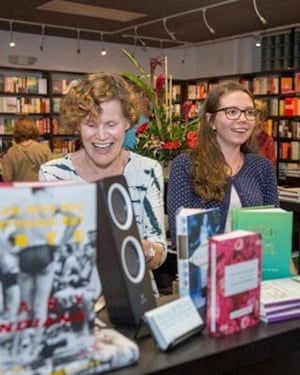 Read more: http://www.theguardian.com/books/2016/may/20/people-are-hungry-for-real-bookstores-judy-blume-on-why-us-indie-booksellers-are-thriving